The world's favourite Scottish time travel themed love story also known as
Outlander
is back and better than ever!
After a tumultuous albeit exciting and thrilling first season which aired from 2014-15, the first episode of the second season "Through a Glass, Darkly" begins immediately after Jamie (Sam Heughan) and Claire's (Caitriona Balfe) decision to travel to France. Unfortunately, that pesky thing known as time travel sucks Claire from Jamie and back into 1948, where she is still married to Frank Randall (Tobias Menzies) and still pregnant with Jamie's baby. In the second season, having relocated to Paris, Claire and Jamie attempt to prevent the Jacobite risings by subverting the funds that King Louis XV of France is providing to the pretender Charles Stuart.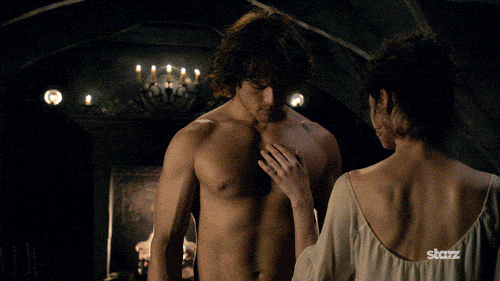 I was initially a little confused about how Claire went from the boat at the end of the last season and is now back where the series started in Inverness. The first half of the episode, which deals with Claire unexpectedly returning to 1948, is superior to the second half.
It was amazing seeing the husband and wife interactions between Claire and Frank which, due to the nature and premise of the show, is mostly ignored. Caitriona's performance was astonishing and dedicated as always and in this episode, seemed especially disheartened and morose which can only be expected given the circumstances! I'm sure the next 12 episodes will be yet another rollercoaster of adventure, bravery and heart.
Outlander
is a premium cable drama which airs on Starz in the US and Amazon Prime in the UK. It is based on the novels in the
Outlander
series by Diana Gabaldon. The first season consisted of 16 episodes and follows a married World War II nurse (Claire) in 1945 who finds herself transported back to Scotland in 1743, where she encounters the dashing Highland warrior (Jamie) and becomes embroiled in the Jacobite risings.