ABC 2017-18 SCHEDULE
Highlights
- Scandal will be back for its seventh and FINAL season. TGIT remains in tact.
- Black-ish is moving from its Wednesday, post-Modern Family timeslot (where it has aired for the duration of its tun) to Fresh Off The Boat's current timeslot (Tuesdays @ 9) It will lead into ABC's sole new fall comedy The Mayor.
- Fresh Off The Boat will move to Tuesdays @ 8:30 after The Middle
-
American Housewife
is probably the biggest winner. It's following in
The Goldberg
's footsteps by moving from Tuesdays to the coveted Wednesday comedy block.
- Sundays will now be unscripted from 7-10pm.
Once Upon A Time
is moving from its Sunday night timeslot to Fridays. ABC are likely paving the way for
American Idol
in midseason.
- Fridays have been revamped to feature genre dramas rather than multi-camera comedies. High profile Marvel show
Inhumans
will air on Friday nights.
- ABC are adding five new shows to their schedule. The most for any network thus far.
- ABC, Fox and NBC are adding only one new comedy to their Fall schedules: The Mayor (ABC), Ghosted (Fox) and the Will & Grace revival (NBC)
- ABC's midseason shows include: returning dramas
Agents of SHIELD
and
Quantico,
new dramas
For The People
,
The Crossing
and
Deception
, and new comedies
Alex, Inc
., and
Splitting Up Together
and a reboot of
Roseanne
.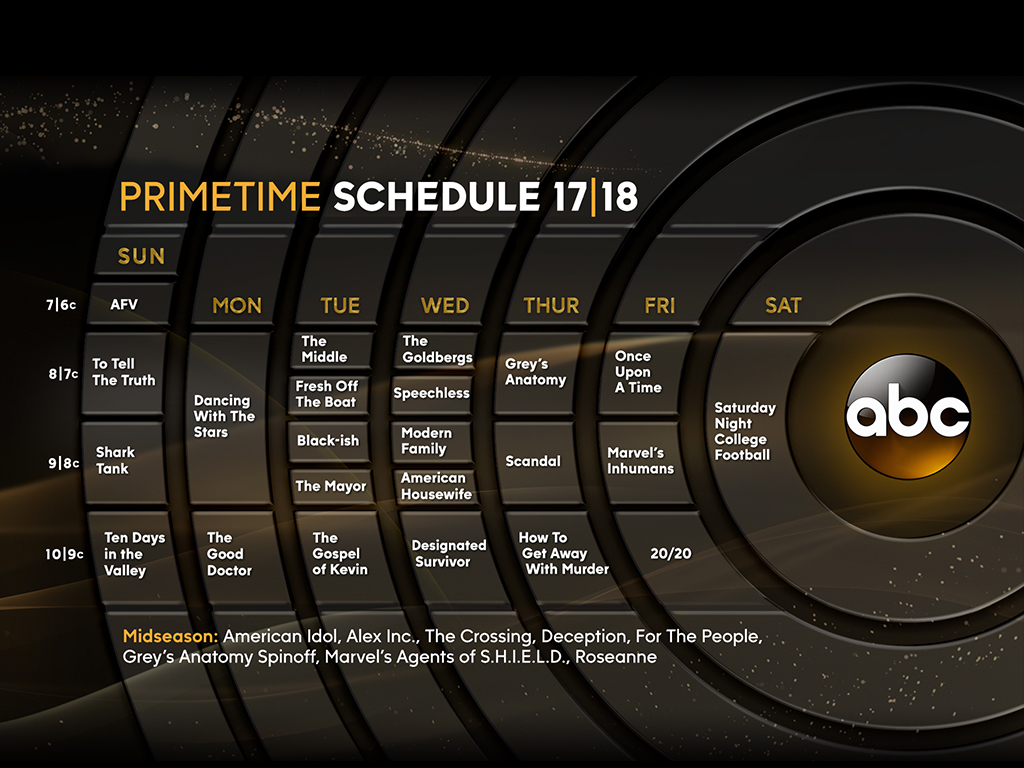 MONDAY
8 PM — Dancing with the Stars
10 PM — THE GOOD DOCTOR
TUESDAY
8 PM — The Middle
8:30 PM — Fresh Off the Boat (new time period)
9 PM — black-ish (new day and time period)
9:30 PM — THE MAYOR
10 PM — THE GOSPEL OF KEVIN
WEDNESDAY
8 PM — The Goldbergs
8:30 PM — Speechless
9 PM — Modern Family
9:30 PM — American Housewife" (new day and time period)
10 PM — Designated Survivor"
THURSDAY
8 PM — Grey's Anatomy
9 PM — Scandal
10 PM – How to Get Away with Murder
FRIDAY
8 PM — Once Upon a Time (new day and time period)
9 PM — MARVEL'S INHUMANS
10 PM — 20/20
SATURDAY
8 PM — Saturday Night Football
SUNDAY
7 PM — America's Funniest Home Videos
8 PM — To Tell the Truth (new day and time period)
9 PM — Shark Tank (new day and time period)
10 PM — TEN DAYS IN THE VALLEY